Desert Divination Oracle Cards
$

45.00 Sold Out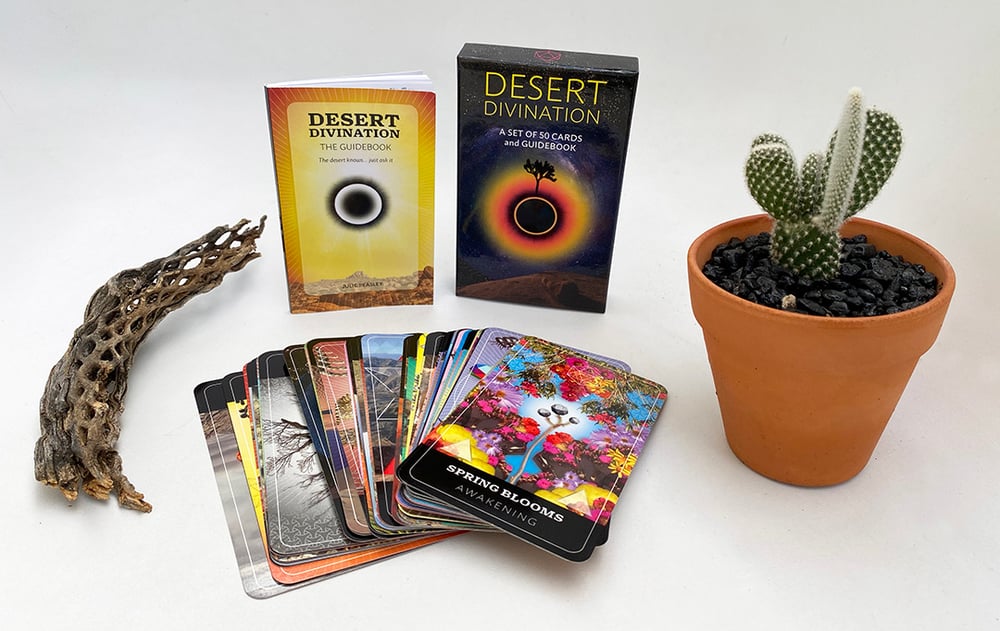 Desert Divination :: A deck of 50 oracle cards inspired by the deserts of southern California.
The desert knows... just ask it.
PLEASE NOTE: I am out of booklets so I will send you a link to view the booklet online as a PDF. The price has been reduced because of this.
Use this deck for divining answers to your questions through the wisdom of the natural elements found in the Mojave high desert and the Sonoran low desert of the American southwest. Living in the desert changed me forever and inspired me to develop its flora and fauna into symbols and concepts useful for personal transformation. From Joshua tree to yucca plant, roadrunner to dust devil, tarantula to cactus wren, cholla cactus to bighorn sheep, fire ant to flash flood, you will find in this deck everything in the desert that is hard and prickly, soft and fuzzy, tumultuous and tranquil. The art is intricate, psychedelic and surreal; colorful and geometric.
Simply ask a question and pick a card. The included guidebook gives you a carefully written message for each card. Trust the answer, as it is between you and the universe, which holds the highest wisdom. Use the deck sparingly for serious, burning questions or daily for gentle guidance. But most it all, use it to have fun. Learn about the desert. Explore the beauty of its plants and animals. If you like the Joshua Tree vibe and the unique Mojave landscape, this deck is for you.
---- WHAT'S INCLUDED ---
• 50 glossy cards measuring 2.75" x 4.75"
• full-color cardboard box
Share